To create the optimal environment for a new age of multidisciplinary research, the University of Pittsburgh had to radically rethink its engineering spaces, transforming Benedum Hall and adding the new Mascaro Center for Sustainable Innovation.
The University of Pittsburgh's Swanson School of Engineering has driven engineering-based innovation for over 100 years. With strengths in energy, bioengineering, nanosystems, computational modeling, and advanced materials, today its faculty and students collaborate in ways that require a radically different approach to research facilities. Yet this research model was hindered by Benedum Hall, the school's 1960s Brutalist-inspired building, which was designed for segmentation, not collaboration. It required a bottom-to-top renovation and expansion.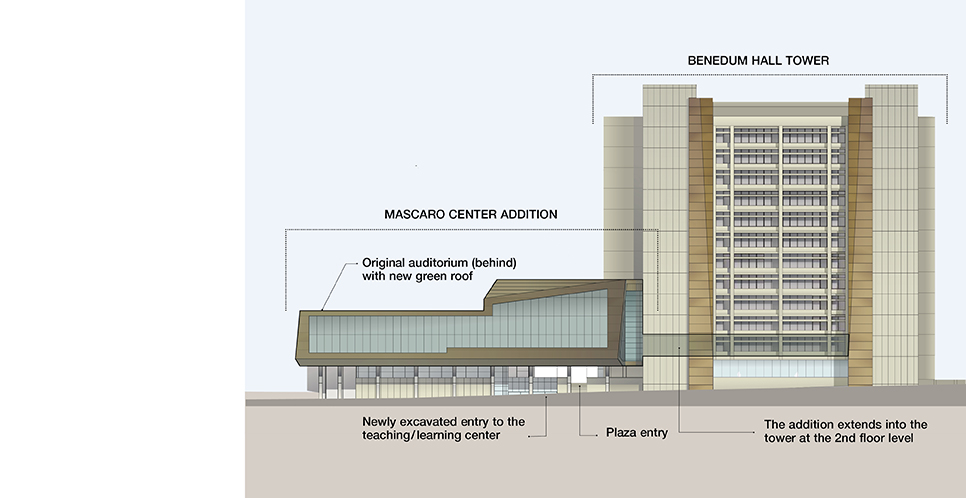 " We're seeing collaborations develop that we wouldn't have seen if it weren't for the space, to a great extent because these faculty and their students are neighbors now. "

Gena Kovalcik Co-Director, Mascaro Center for Sustainable Innovation
The Mascaro Center for Sustainable Innovation
While planning the Benedum Hall renovation, Pitt launched the idea for the Mascaro Center for Sustainable Innovation, which would integrate engineering, applied sciences, and sustainability research to improve products, processes, and policies affecting everyday life.
Given the limited area available, the design team decided to build up, over the low-rise auditorium building, using angled columns that connect to the existing structure. The new building contains dry labs and administrative offices for the MCSI, and spans the entry plaza to connect to wet labs and faculty offices on the second floor of Benedum Hall. This floor also features five new classrooms created by adaptive reuse of the auditorium building. A library, café, atrium, conference rooms, and upgraded mechanical systems round out the new building program.
By adding the new Mascaro Center, and by reorganizing spaces within Benedum Hall, the Swanson School created a new sustainable research institute that integrates fully with the engineering department in the renovated tower.
Sustainability
The Mascaro Center and Benedum Hall renovation also met the requirements for LEED Gold certification. Together, they feature the University's first green roof — which reduces water runoff and heat absorption — along with heat recovery equipment to recapture the heat from exhaust air. The university also implemented a rigorous construction waste recycling program, recovering more than 75 percent of the project's construction debris.
Awards
AIA Columbus, Honor Award
AIA Pittsburgh, Design Pittsburgh Award
Publications
Pitt Chronicle, "Mascaro Center's New Home Takes Green Design, Engineering to Heart," August 26, 2009
ArchDaily, "Mascaro Center for Sustainable Innovation," August 19, 2011
Pitt News, "Pitt Building Wins International Design Award," September 24, 2012