Normalcy at Journey's End
The Bayt Abdullah Children's Hospice (BACH) in Sulaibikhat, Kuwait, is the only palliative care center in the Middle East, and one of the largest in the world, dedicated exclusively to children with life-threatening or life-limiting illness.
With medical assistance, psychological counseling, play, social opportunities and meditative retreats, BACH supports a family's spiritual journey as they navigate the difficulties associated with the life-limiting condition of their child. When the inevitable occurs, families can gather in a private area of the facility that allows them to pray, reminisce and say goodbye to their loved one in a peaceful environment.
Choice, Normalcy, Journey
For these children, life can be chaotic and scary, so BACH employs three design objectives to give them control of their environment and as normal a life as possible.
A variety of places are available for children, including a play area, preschool, library and gym. At play, they can choose among riding the wheelchair-friendly outdoor Ferris wheel, honing their pottery skills in the art room, playing video games or reading in the library.
With a choice between inpatient suites or one of 11 private chalets, families can select the level of privacy appropriate for them and their child. Inside the chalets, a monochromatic color scheme conveys serenity, while warm colors and lighting provide a residential ambiance.
The interior design reflects the sights, colors and experiences typical of life in Kuwait. Drawings of native animals — camels, flamingos and falcons — illuminate at the touch of a button, and water features and fish tanks reflect the ecosystem of the Persian Gulf.
The inpatient suites, resembling a home setting rather than a traditional hospital room, feature an atmosphere conducive to regular family life, play and overnight guests.
The design supports families at all stages of the journey associated with their child's illness. For instance, the lobby consists of two zones: one for first-time patients, the other for repeat visitors.
Child-centric design is evident throughout Bayt Abdullah. Bright colors and graphics create a fun, playful atmosphere to reduce anxiety during a very stressful time.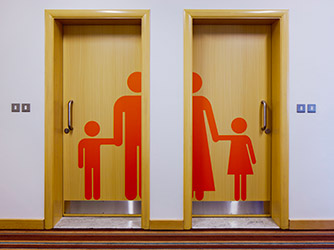 Awards
Hospital Build Middle East, Highly Commended for Best Physical Environment
IIDA, Middle East Interior Design Competition, Best of Category
IIDA Healthcare, Interior Design Award, Best in Competition
Interior Design, Best of Year Award Finalist, Health Care: Small

Publications
Healthcare Design, "Children's Hospice Creates Normalcy Through Family-Friendly Design," October 2012
Arab Times, "At Peace with a Journey's End," December 2, 2010
Bazaar, "Bayt Abdullah," February 2010
Icon, "For the Children," September-October 2009