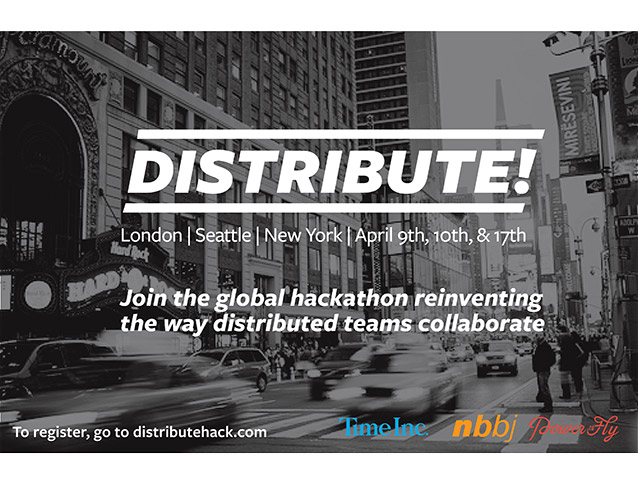 NBBJ Partners with Time Inc. and PowerToFly to Host Hack Event Focused on the Future of the Workplace
"The Future of Distributed Work" Hackathon Invites Design and Technology Experts to Compete in April
NEW YORK – March 17, 2016 – NBBJ, Time Inc. (NYSE:TIME), one of the world's leading media companies, and PowerToFly, a global technology platform connecting accomplished female tech talent with Fortune 500 companies and high growth start-ups, are hosting a global hackathon event on April 9th, 10th and 17th to brainstorm the workplace of the future. The goal is to radically evolve the way teams work, communicate and collaborate across the globe.
The event will be held over two weekends in April, at hub locations in Seattle, New York and London with satellite locations in cities around the world. Teams will be charged with designing, coding or hacking solutions to humanize the distributed workplace. Applications are now being accepted.
"How we work is radically changing. We are shifting from individualism to networks that not only create better solutions but also fulfill our needs as social beings. Across the globe, distributed teams have become instrumental in addressing challenges around the clock. And where we work is a much broader place than just an office: It's in the interstitial spaces that make up our working lives. Architecture, as a practice, must look beyond steel and glass for platforms that support these important creative intersections," says Ryan Mullenix, Design Partner at architecture and urban planning firm NBBJ. "We're thrilled to have this opportunity with Time Inc. for cross-sector collaboration among design, technology, business and science to collectively explore how work environments can overcome the barriers of time and geography."
"To recruit and retain the best talent, we need to find new ways to connect and collaborate across the globe," says Robert Duffy, Vice President, Mobile Application Strategy and Engineering at Time Inc. "As Time Inc. moves to a more distributed work force with offices around the world, it's important to consider how technology can help open cultural portals and create serendipitous interactions to bring these far-flung teams together,"
Duffy adds, "I am optimistic that the competitors at our event will offer many solutions to this important business challenge."
This is the first time these companies have hosted an international hack event.
"The future of work for women is not in an expensive office space. It's in the cloud. It's around the virtual watercooler, not in a cubicle or on a tech campus. It's women working from where they are most productive for both their lives and their careers," says Katharine Zaleski, President and Co-founder at PowerToFly. "We are so excited to collaborate with Time Inc. on this hack-a-thon, where we will be building the distributed workforce of the future."
In April, developers, designers, coders, architects and distributed work experts will come together at the competition to create prototypes of the "Future of Distributed Work." Each team will be given a narrow assignment and will be asked to submit their ideas to a panel of five expert judges. Throughout the weekend, the teams will be able to seek advice from over 10 industry-based mentors. The winning team will get to see its prototype come to life in a Time Inc. and/or NBBJ location. Additional prizes include licenses for Microsoft BizSpark Plus.
For more information and to register for the event, visit: http://distributehack.com.
# # #